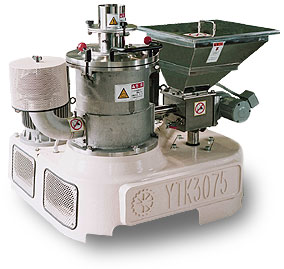 YTK3275 Counter Rotating Pulverizer (SETY)
"Hello, I am the YTK 3275 counter-rotating pulverizer, known also as SETY."

For grinding food, seasoning, pharmaceticals, herbs, and cosmetic, our pulverizing machine (SETY) will greatly improve the particle size distribution and water penetration rates while minimizing product degradation.
If you need to pulverize products, such as Nutmeg, that can not be handled by the temprature of your current pulverizers, please try our YTK3275 (SETY).