With 50 years' of experience and technical know-how, we have earned our customers' confidence in our abilities.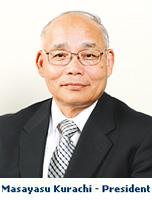 In the past 50 years, ever since establishing our company, we have been involved in manufacturing equipment for producing fresh and dry noodles. We also have been involved in marketing and producing other food production equipment. Because of the support of our customers, we were able to develop patented equipment and popular products. We have received customer satisfaction and confidence in our products, both in Japan and other countries.
In 1995, we expanded our operation by expanding our main office and manufacturing plant. In response to the increasing workplace liability, we offer equipment with up-to-date safety features. We strive to produce equipment of high quality and low ownership costs. We are continually challenging ourselves to produce equipment for a wide range of applications.
We strive to make equipment for producing the highest quality products with consistency and high sanitary and energy efficient requirements.
In our industry, where it is becoming more of an information age, diverse, and international in scope, we would like to help you meet your needs. We sincerely wish for your guidance and support in the future.


♦(Challenge)…Challenge to develop new products, challenge to help customers with their problems, and challenge to find new ideas
♦(Creativity)…Create our own technology; create high-quality products; and create new products by working with our customers
♦(Appreciation)…Have appreciation for everything